Welcome to In Summation
- The Final Word
Attorney, host and creator Paul Townsend examines some of the most famous and infamous – and often misunderstood – court cases to make headlines across America. In doing so, he provides listeners with a true and unbiased understanding of the underlying facts as the judge or jury would have heard them at the time, explains what the role of each party was, breaks down the legal arguments presented, and gives the final word on who ultimately prevailed and why.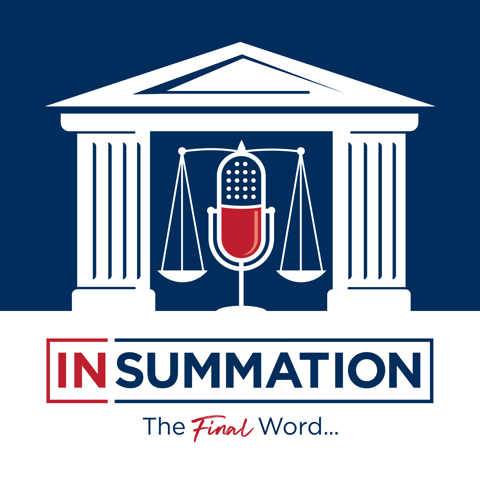 The origin of the show: In Summation - The Final Word
The COVID-19 pandemic was unquestionably a disruptive time for everyone. The vast majority of businesses were locked down, and people found themselves working from home, often with more time on their hands for things like the news and current events. As a result, a lot of people began to pay a little more attention to what was happening in the country around them, and not just with respect to the efforts to combat COVID-19. Paul found himself keeping in touch with friends over video chat or phone calls, and having frequent conversations with people curious about certain aspects of high profile criminal prosecutions. A lot of people were more than superficially interested in what happened to the law enforcement agents who shot and killed Breonna Taylor in Kentucky, or the prosecution of Full House star Lori Laughlin in Massachusetts, and, of course, the case against Police Officer Derek Chauvin in Minnesota, who was videotaped kneeling on the neck of George Floyd for nearly 10 minutes prior to Floyd's unfortunate death.
This led to further questions about past cases which gripped national headlines. Paul found himself frequently answering: How was George Zimmerman not found guilty? Did PharmaBro Martin Shkreli go to jail for raising the price of that cancer drug? How was Michael Jackson never convicted of child molestation? Whatever happened to those Duke University Lacrosse players accused of rape?
People were, and continue to be, genuinely interested in these cases and wanted to know why certain actions were – or were not – taken, and how the mechanics of a grand jury presentation or preliminary hearing worked. Paul has answered questions about motion practice, facial sufficiency, proof beyond reasonable doubt, and the efficacy of certain attorney tactics. The more these questions were asked, the more Paul felt that there may be some interest in a podcast highlighting these issues.
Historically, the public has viewed criminal prosecutions on both the state and federal level as some kind of foreign language, accessible only to those who practice in this area for a living. But Paul believes that the basic concepts of these significant cases, and explanations of what happened and why, can be made accessible for anyone who wants to learn about them.
Paul was mulling over the idea of starting a podcast dedicated to taking some of the most widely discussed cases in American history and providing listeners with the basic facts so that anyone, lawyer or otherwise, would be able to understand what happened. Paul spoke to his wife, Sarena, who was extremely supportive of the idea and who finally convinced Paul that people would listen and enjoy the show. And that's how In Summation – The Final Word was born. Shortly after recording and publishing the first few episodes, Paul enlisted his brother, Dan, to do the audio engineering as Dan is a recording industry professional and Paul is very skilled at critiquing legal arguments but not quite as skilled at improving recorded audio quality.
From the outset, Paul has made it a point to discuss the merits of these cases, and not wade into commenting on social issues. There are plenty of podcasts which deal with politics, social justice, and contemporary cultural issues. In Summation remains focused on the legal aspects of the court cases and leaves normative judgements about who is a "good" or "bad" person to other content creators. Paul's desire is to engage with the legal issues and arguments rather than tribalism or virtue signaling.
We hope you enjoy the episodes, if you do please subscribe to the show and leave feedback. Paul makes it a point to respond to every message he receives.
The 1990's were filled with high profile criminal trials for some of the most famous entertainers in the world.  Michael Jackson and OJ Simpson headlined a list of extremely...
Read More
Hello again friends and family, Bucking a recent trend of recent cases, today we head back roughly 140 years to Chicago in the 1880s.  This is another case where...
Read More
Greetings friends of In Summation – The Final Word. Today's episode explores the unusual trial of Jamell Demons, aka YNW Melly, who was charged with the double murder of...
Read More
Listen to the latest episode of IN Summation.
Find and read the latest articles on IN Summation.
We'd love to hear from you. Give us a Shout